Hygge: The Danish Art of Coziness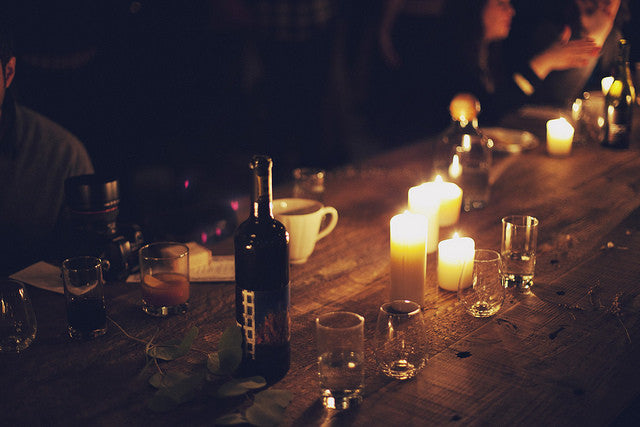 Denmark, known for its dreary days and dark winters, is consistently ranked the happiest country in the world. How is it that people who live in such a frigid climate find so much happiness in everyday life? The answer is hygge. Hygge (pronounced hue-gah) is a simple feeling with a difficult pronunciation. It's the Danish practice of "cozy-togetherness". There is no direct English translation, which leaves plenty of room for everyone to define their own sense of the word.
We crave hygge moments.
Hygge is all about creating atmosphere. It's an all-encompassing feeling of happiness and being close to those around you. 
It can be felt sitting around a campfire, roasting marshmallows and laughing with friends. It can be felt watching a movie with your kids before bedtime, all snuggled up on the couch.
One of the most common definitions of hygge is the feeling you get when you're sitting around the dinner table, enjoying a good meal with friends and family; when you're laughing and sharing good conversation. Hygge can be described as the peaceful happiness you feel.
It's easy to bring stress from your daily life into these precious moments. Hygge challenges us to step out of our heads and fully immerse ourselves in the simplicity of the moment … in the people around us.
Do-it-yourself hygge:
So how can you incorporate hygge into your life? Let's start with the dinner table
1. Invite friends and family.
This can be anyone from immediate family to long-lost friends. Invite people you want to catch up with. Serving food family-style will help with this too. It casually opens up the mood for conversation and collaboration. "Pass the potatoes," will quickly turn into, "Remember when ...."
2. Lighting, lighting and more lighting!
Make it cozy. Hygge is all about finding the light in the darkness of winter. Try lighting some candles to warm up the table. Or add soft-lit lights to your room decor.
3. Don't rush people out the door.
Take time to enjoy the dinner itself, away from all distraction. Step back and cherish the time you have with those you're surrounded by. BONUS: If you don't appear rushed at the end of the meal, your guests are more likely to stick around for another glass of wine.
4. Imperfection is perfect.
No one will remember (or really even care) if the napkins matched the centerpiece. What they will remember is the "hygge" feeling you created. If the idea of throwing an entire dinner party sounds daunting, try taking things back a notch and host a simple wine-and-cheese night. Keep in mind that stress contradicts the purpose of hygge - so keep to what you're comfortable with.
We can all learn a lesson from the Danes about slowing down and enjoying life. Practicing hygge is a sure-fire way to grow closer to those around you and find beauty in the simple things.
Leave a comment
Comments will be approved before showing up.