Good Wine: Put a Cork In It, and Below It.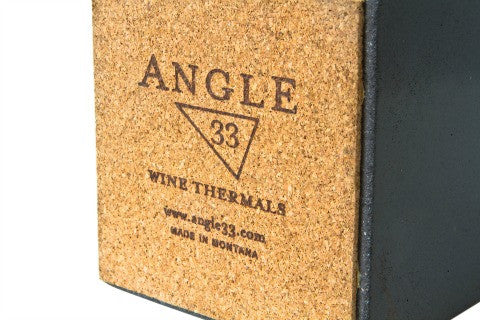 I talk a lot about the importance of details in the experience of drinking fine wine. That's why we strive to make our thermals an integral part of the wine drinking experience—we want to honor the details. During our design process, we decided that we needed something on the bottom of the concrete wine thermal to prevent scratching and buffer the contact of thermal against counter top, bar top or tabletop. We also needed something that didn't slip, still looked classy and could withstand moisture.
Typically, cork and wine go hand-in-hand, so it wasn't that far of a stretch to select cork for the base of the thermal—and now, with our thermals, it's not just hand-in-hand, it's top to bottom.
Aside from the cork's appealing presentation and functionality, it's a natural, biodegradable and truly sustainable option.  We've learned that cork is an effectively utilized renewable resource. Cork forests have some of the greatest biodiversity in the world, help prevent desertification, have supported thousands of family farmers for generations and absorb millions of tons of CO2 each year. Whether cork is new, recycled or thrown away, it has a positive impact on the environment. Cork forests are being managed more sustainably with each passing year, and the quality of cork products is constantly evolving to meet the needs of the ever-growing wine industry. Visit Cork Forest Conservation Alliance to learn more.
In an ideal world, we'd grow our own cork, cut it and emboss it. We don't have any cork forests in Montana or a local cork recycler; and as concrete artisans, cork is simply not our forte.  Someone can do it better and more efficiently. So, we get our cork from a family-owned business in California and we also have it cut and embossed there. We can feel good about it, because we know we are helping to employ more people and we are still supporting the US and regional economy.
We attach cork to the bottom of each thermal, by hand, using a low-VOC adhesive made also in California. The adhesive is a great example of balancing quality and sustainability, in that sometimes what makes a product last and most useful isn't always the "greenest" option. So, you have to do it the best way possible. One approach is by making sure you only have to do something once for it to last. This is what we believe to be the best approach in using adhesive. As a result, we've never had our cork fall off our thermals.
You may never look at the bottom of your wine thermal, but you'd notice if it left a big scratch on your dining room table. It's the detail that makes a difference—so you can focus on drinking good wine with an elegant presentation. This tiny detail makes a big difference.
Leave a comment
Comments will be approved before showing up.